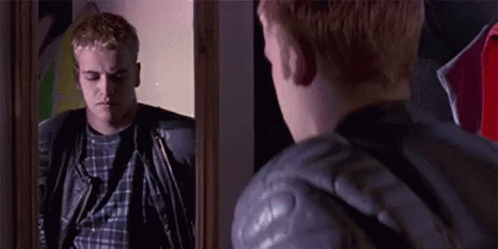 In the past week, I've watched a number of 1990s Hollywood films, such as Sneakers (1992), Hackers (1995), The Net (1995), and My Fellow Americans (1996), where the "everything's on the computer" state of records, as stated in passing in The Andromeda Strain (1971), has been reached. All of these films share a similar theme: the erasure and change of records (mostly digital), which has an increased relevance as archival institutions continue to digitize more and more of their records, although not everything, as I noted in my post about challenges of archival digitization in late April.
Looking at the 1990s films
Let's start with The Net, since it was the first of these films that I watched, computer with bulky hand-held phones and dial-up computers. In this film, Sandra Bullock plays an isolated middle-age White woman (Angela Bassett) who is a "program systems analyst from Los Angeles" who lives most of her life online, talking on chat rooms and ordering pizza. That all changes when she takes a trip to Cessna (before which there is a computer malfunction which screws with flights), Mexico, meets a man who basically seduces her in order to get control of a virus which is on a floppy disk, of all things. This plan fails, however, as she realizes, after literally sleeping with him for some reason, that he wants to kill her, so she gets away in a dingy that crashes on rocks, knocking her unconscious. She wakes up three days later in a hospital and the disk has been destroyed. As she is about to go back into the country, after a record was changed that checked her out of the hotel, she is told to sign a temporary visa document which states that her name is Ruth Marx.
As the movie goes from here, she realizes that her identity has been stolen by an imposter, with the change of records by the villains who want to make profits off their security technology and gain access to every system possible. With this, the movie is a bit of warning that it is very easy for someone to be digitally erased with so much of our lives online, with which you don't even have to spoil the ending. Clearly there are inept secondary characters (police officers, nurses, and jailers), many of whom, like sole archivist Madame Nu in Attack of the Clones think that records are inviolable and cannot be changed. The partially inept villains are even able to kill a few people, like the Undersecretary of Defense by falsifying a report saying he has AIDS and a friend of Bullock's character. At one point, she says that "our whole lives are on the computer, and they knew that I could be vanished. They knew that nobody would care and it wouldn't matter." Later she adds to the inept court-appointed lawyer, who believes in the inviolability of the records in that they cannot be tampered with, to defend her from false charges:
Just think about it. Our whole world is sitting there on a computer. It's in the computer. Everything. Your DMV records, your Social Security… your credit cards, your medical history. It's all right there. Everyone is stored. And there's this little electronic shadow on each of us… just begging for somebody to screw with. They've done it to me, and they're gonna do it to you…I'm not Ruth Marx. They invented her. They put her on your computer with my thumbprint.
There were some similar themes in the 1992 film, Sneakers, which starred Robert Redford. The film focuses around attempts to create a black box which would crack American codes, allowing access to any American security system. In the process, a team tries to steal the box back and one of the characters purchases blueprints from the county recorders office for $50.00, leading the movie to be cited as an example of "the use and portrayal of records in film." [1] With the information from the county recorder's office, and their own observations, they are able to break-in to the company of the villain and get the box, but before it is handed to the NSA of the characters removes the main processing chip.
There is more than that. Redford's character is basically a hacker, as was his friend Cosmo (who is the film's villain) who was arrested and thrown into prison for computer crimes. The black box has a similar power to malicious code in The Net. Again, the focus is that records can easily be changed, or in the case of this movie, mimicked, to certain ends. Like the previously mentioned film, the cast is mostly White, but a bit more diverse in that they have a former Black CIA agent on the team of the "heroes."
There's one other film which has similar themes: Hackers, which features Angelina Jolie in a starring role. It focuses on a group of teen hackers who work to take down a villain who wants to sink a few oil tankers while getting wealthy in the process. In this "cult classic" film, as some places call it, there are computers running on dial-up (like in The Net), huge portable phones, people in some of the nerdiest clothes ever, and moving of information around on…floppy disks! In fact, the virus itself is on a floppy disk.
The altering of records is a key part of this film as well, as the villain alters criminal records of the male protagonist and his mother to list them as criminals, blackmailing him to give up the floppy disk. In the end, this group of hackers, all men except Angelina Jolie's character, and all White except one kid with dreadlocks, sets out to take down the servers of the villain's mega-corporation, succeeding thanks to help from two Japanese hackers and their subsequent "electronic army" of hackers. Somehow, they basically get off from their prison sentence thanks to a television broadcast from one of the hackers, which seems strange as he could be utterly lying. As with most movies of this nature, the plot doesn't always completely add up.
Finally, there is a bit of an outlier: the 1996 film, My Fellow Americans. This is perhaps the hokiest film of all, although archives is a main part of this film. Ex-Presidents, played by James Garner and Jack Lemmon, discover a scandal in the current administration. Lemmon discovers that conspirators have altered his official records, at his presidential library archival vault, in order to "erase traces of a meeting." At another time, Mark Lowethal's character goes to the National Archives, finding that the presidential appointment log does not show this meeting. [2] It turns out the culprit behind these changes is the current sitting present, the former vice-president, with his chief of staff being the one whom "doctored the Archives log and the log in Kramer's library."
In this case, the film does not involve the changing of a digital record but only the changing of a paper record. Still, this has a similar theme to the other three movies in that records can be doctored, manipulated, and changed to the benefit of certain individuals. Although, this can be, at times, easier to do with digital records than with paper records. I would also say the theme that records can be changed, erased, or rewritten follows through the Halt and Catch Fire series, along with shows like Mr. Robot, going into its last season this coming fall.
Why do these films matter?
"If  I  could take  all the  things  that  I  am, all the  feelings  I  have, all the  things  that  I  want,  and somehow  get  them  on a  computer  card, you would be  the  answer. I  don't  know  why  or  how  you've  come  along at this  particular  point  in my  life. See, that's  the  magic part. I'm  not  gonna  let  you  go."- Dr. Sidney Schaefer talks to his girlfriend (who ends up being one of the people who is spying on him) in The President's Analyst, a 1967 film
They matter because more and more of the records held by archival institutions are digital, specifically "born-digital" (like tweets, Facebook posts). Of course, they are a bit dated, as they came out between 1992 and 1996. However, the point that records can be changed and manipulated should be considered. There should be measures in place to make sure that the records, especially digital records, are not tampered with. Perhaps this would require fixity checks, but also could necessitate rules on the usage of records themselves.
At the same time, the archives themselves should not be like the dark and haunting Thatcher Memorial Library in Citizen Kane, which has what some have described as having one of the world's meanest archivists, played by Georgia Backus, with hair up in a bun "and an intimidating stare on her face, a real dragon lady at the gates of knowledge." This is not the type of archives you want to go to! This is not the image which should be projected. [3]
What I have said so far is only scratching the surface. These 1990s movies have standing importance because born-digital files which are entering archives across the world, like some in New Zealand, include "photos, radio broadcasts and documents," requiring appropriate workflows. Margot Note, a prolific writer in this field, described that as a former lone arranger who directed all archival management at an organization she launched a project to digitize a set of records, creating digital surrogates of 2,000 of the collection's best images, adding that such surrogates are superior to past formats like microfilm since they can be delivered through networks "offering enhanced access to simultaneous users around the world." In the same article she advocated the importance of digital collections, saying they grant "valuable remote access to the information contained within the original records" if they are created within the appropriate archival infrastructure, with metadata and search functionality, indexing. She adds that digital collections of archival records can not only provide for "multiple points of access and enhanced image details" but it can allow for more in-depth study than analog originals, increase interest in items which have often been ignored, and it can also act as "an advocacy tool for an archives." She also argues that different types of digital surrogates of records can be created, either for web display, storage, or print reproduction. She ends by saying that while "electronic copies suffer no degradation through the duplication process," a copy of a digital photograph is "indistinguishable from its source" meaning that the "original" loses its meaning, and that with digitized images, "researchers risk losing information that enables them to understand how the image was accessed and how its physicality changed over time." As such, there should be efforts to limit or eliminate such a loss.
But there is another aspect to archival records. Librarian Carrie Wade argued back in December 2018 that information is political with information loss affected by federal funding decisions of research repositories ruining the work of professionals. Similarly in the case of archivists, they should not be completely neutral not only because who "we elect impacts our ability to do our jobs well and the access that people have to information," as she argues, but they literally cannot be neutral as they are human beings with viewpoints, emotions, and thoughts of their own.  Building upon this, there are clear archival silences or "gaps in the archival record," with these silences "created and enforced within archives" as a result of practices that are  "central to the work of archivists." Digital records, whether born-digital, like social media posts, or digitized paper records, can help bridge this gap. After all, paper or analog records can be digitized in ways that allows access to them through online channels while originals are restricted.
All of this is relevant to the 1990s films I referenced in the first half of this post, as it requires having effective records management programs. The policies regarding records not only in Hackers and The Net, or even My Fellow Americans and Attack of the Clones were clearly outdated, and should be taken as a warning to have correct policies. This also requires taking into account challenges with capturing resources that are born-digital and making it available, effectively curating this information for the user. Furthermore this is important as a major trend in libraries is collection of data to prove their value even though this has its downsides especially when it comes to ethical concerns with data mining and big data, even though this can be useful. At the same time, how material is defined for easy access is a challenge "to every content owner," as is choosing the right metadata, with "important detail work" in this process. The same is the case for finding more "accessible ways for people to find and scan content" and ways to share these "images with your target audience." [4]
Concluding words
All of this ties back, of course, to the classic animated sitcom, Futurama, with its mentions of "technical support," CDs, CD players/CD racks, and floppy disks (some of which are 15-inch). In fact, in one episode, "How Hermes Requisitioned His Groove Back" (season 2, episode 15), the last half of the episode is about going into the central bureaucracy to get back a disk with Bender's brain on it, which is floppy disk. Others mention existing government records, databases, a record vault (safe  box) and an arrest record. In one episode Fry even declares to Bender that "I'm not a robot like you! I don't like having disks crammed into me" while in another he downloads "a celebrity from the Internet" from a parody of Napster, which is kidnapping celebrities and illegally copying them, with the "backup disk" being a floppy disk. Others focus on big data and concentration of information, digital cameras and operating systems.
I mention all of this because it shows the relevance of record erasure, digital archives, digitization, and the changing digital environment. This requires of course that you don't have "unauthorized data access" like Fry accessing the computer connected to the brain spawn. In the end, while these 1990s Hollywood movies are dated in various ways and problematic in others, they still have relevance connected to present developments of archival institutions in response to new technologies and making records more accessible to online users.
© 2019-2023 Burkely Hermann. All rights reserved.
---
Notes
[1] Kyle Neill, Senior Archivist of the Peel Art Gallery Museum & Archives also argues that there are archival themes in The Dark Knight (2008), The Avengers (1998), Chinatown (1974), and Tinker, Tailor, Solider, Spy (2011).
[2] This reminds me of a major plot point in Thrill Seekers, a 1999 TV movie, where the protagonist finds out that there are people who travel in time (from the future) to disasters and serve as tourists, disgustingly watching people die. In the process, the researcher on staff at a local newspaper, a bit like a records clerk, has databases of newspapers on her computer, which he searches to find information, which she lets him use even though she just met him (not good records management). Ultimately she says that she will go to the National Archives to find the original images, proving that he was not lying about the time travelers. Later, the protagonist goes back and time and saves her. But, I thought I'd just mention this, as the fact she is a bit of a records clerk brings in line with the records clerks in Erin Brocovitch (2000) and Chinatown (1974). The former has a clerk who flirts with a law firm filing clerk (Erin Brocovitch) who uncovers wrongdoings of a water utility company on her three visits to the records office of the Regional Water Board, letting her into "a records storage area, piled high with files, papers and binders, where she proceeds to copy water records," allowing her to complete her work. The latter has a sullen young man who does not like his job, grudgingly providing assistance, with Jack Nicholson's character "tearing out part of a page from a record book by covering the noise with a cough" after he is told he cannot check out the volume. This clerk, as one reviewer puts it, has "a well crafted scene presenting a stereotypical records keeper" with the clerk/archivist as "an impatient, unhelpful civil servant guarding over his records domain who treats the public as trespassers" while the "records are in long aisles in bound volumes." Some have compared Erin Brocovitch to another film with records as central, specifically A Civil Action (1998).
[3] The same goes for Hollywood images of old archivists like in Vampires (1998) where the church archivist is introduced, a "slight, bearded man with glasses" whom is sent along on a quest," in They Might Be Giants (1971) where a wealthy lawyer, who thinks he is Sherlock Holmes, teams up with a psychiatrist "to try to rid the world of evil" and in the process, one person plays an aged archivist who, despite his problems, "does come across as the sanest person in the movie and he finds clues to track down Moriarity," or in Amityville II: The Possession (1982) when a father uses a local archives to find out about a hosue causing trouble for his family, and in the process he is helped by an elderly archivist, a person who says "I've worked here for 25 years." There are other mentions of archives, but without archivists in Arlington Road (1998), Batman Begins (2005), Beverly Hills Ninja (1997), Broken Lullaby (1994), GoldenEye (1995), Journey to the Far Side of the Sun (aka Doppelganger) (1969), L.A. Confidential (1997), Message in a Bottle (1999), Ninth Gate (1999), Rogue One: A Star Wars Story (2017), Secret Nation (1991) [Canadian film], Shooting the Past (1999), Smila's Sense of Snow (1997), The Dark Knight (2008), The Name of the Rose (1986), The Phantom (1996), and The Shadow (1994). Also, there are said to be flirtatious archivists in Carolina Skeletons (1991) and Just Cause (1995), along with helpful ones (either initially or ultimately) in Cloud Atlas (2012), Deceived (1991), Quatermass and the Pitt (1967), The Fugitive (1993), and The Mask of Dimitrios (1944). There are also a number of films which have archivists in the background: Charlton-Brown of the F.O. (1959), Macaroni (1986), Red (2010), Ridicule (1996), Rollerball (1975), and The Age of Stupid (2009), and those that are said to have nasty or mean archivists: Blade (1998), In the Name of the Father (1993), Scream 3 (2000), The Nasty Girl [Das Schreckliche Madchen] (1990), and The Watermelon Woman (1996). Please, do not constitute this as an endorsement of any of these films, as likely they are mostly terrible.
[4] Also see articles about how libraries lead with digital skills and a cryptic finding aid.